Dominos Garlic Breadsticks Recipe – Dominos Garlic Bread Recipe
It is pretty simple recipe to make. You just need a handful of ingredients and few herbs for this..This is a simple garlic version of the breadstick. So hope you will give this a try and let me know how it turns out for you..
Preparation Time : 10 mins
Rising Time : 1 hour
Baking Time : 15 mins
Makes : 2 bread
Ingredients:
Oregano Seasoning as needed
Butter or Oil as needed.
For Dough:
Warm Water – 1 cup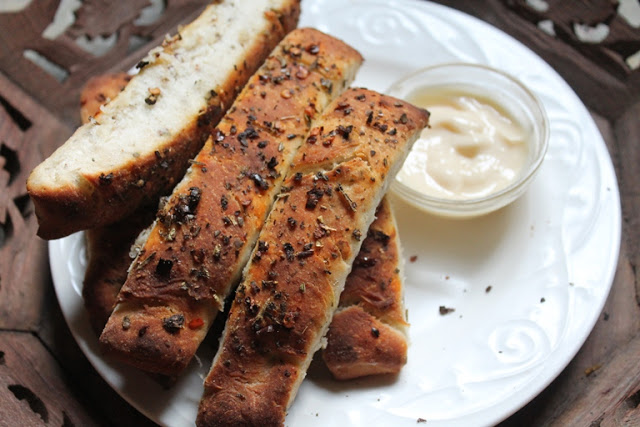 Dry Yeast – 1.5 tsp
Sugar – 2 tsp
All Purpose Flour / Maida – 2 cup + extra
Salt – 1/2 tsp
Garlic – 7 to 8 cloves crushed
Oregano Seasoning – 1.5 tblspn
Olive Oil – 2 tblspn
Method:
Take warm water, yeast, sugar in a bowl and set aside for 5 mins till the yeast it bubbly and activated.
Now add in flour, salt, garlic and mix well. It will form into a sticky dough.
Add in oil and knead well. Cover with plastic wrap and set aside for a hour till it is doubled in size.
Now add oregano seasoning and fold well. Add more flour and knead to a soft dough.
At this point Preheat oven to 180 degree C. Line a baking tray with foil and butter or oil it well. Set aside.
Now divide the dough into two portion and roll one into  thick circle. Fold it over and seal the edges.
Now take the tray and sprinkle it with some oregano seasoning.
Place the garlic bread over it and use a pizza cutter to cut into sticks.
Now brush the top with oil or butter and sprinkle with some more seasoning.
Bake this for 10 mins in 180 degree C. Now increase the heat to 220 Degree C and bake for 5 mins this till give nice colour to the bread.
Remove it and brush with some more butter if needed.
Serve with cheesesauce.