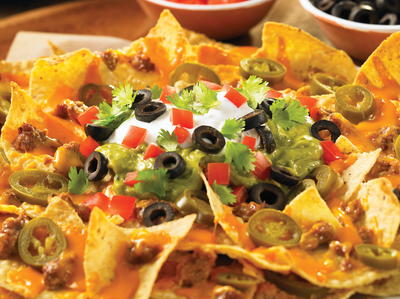 Ingredient:
2 tbsp sunflower oil
1 onion, finely chopped
½ green pepper, chopped
3 garlic cloves, crushed
225 g can chopped tomatoes
½ -1 fresh green chelli, halved, deseeded, and finely chopped
½ tsp chilli powder
½ tsp paprika
400 g can refried beans
75 ml (2 ½ fl oz) water
75 g packet tortilla chips
¼ tsp ground cumin
175 g (6 oz) cheddar cheese, grated
Extra paprika, to garnish
Method:
Heat the oil in a frying pan, add the onion, green pepper, and garlic, and cook gently, stirring occasionally, for 5 minutes or until softened.
Add the tomatoes and chilli, and cook over a medium heat for a further 5 minutes, or until most of the liquid has evaporated.
Stir in the chilli powder and paprika, and cook for 3 minutes, then add the refried beans, breaking them up with a fork. Add the measured water and cook, stirring from time to time, for 8-10 minutes, until the mixture thickens.
Spoon the beans into a baking dish, arrange the tortilla chips around the edge, and sprinkle with cumin. Sprinkle the cheese over the beans and tortilla chips.
Bake in a preheated oven at 200c (180c fan, Gas 6) for 15-20 minutes until the cheese has melted. Sprinkle paprika on top before serving.