Delhi fog: Transport services disrupted as 21 flights, 59 trains delayed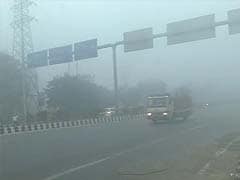 New Delhi: Over 21 flights were delayed and six cancelled at Delhi's Indira Gandhi International Airport due to low visibility on Tuesday as dense fog conditions continued to prevail in the national capital region for the third consecutive day.
The railway traffic was also hit in the capital with 59 trains delayed, 24 rescheduled and 21 cancelled. Flights at the Indira Gandhi International (IGI) airport have also been equally affected with 8 flights being delayed.
#Delhi Fog conditions continue to prevail in the national capital; Visuals from India Gate: 20 flights delayed, six cancelled; 64 trains delayed, 24 rescheduled and 21 cancelled due to low visibility in the region pic.twitter.com/zUoETcPxdf
The government had yesterday said that it is monitoring the situation and is trying to bring some improvement in the system after flight services went for a toss due to heavy fog in the last few days.
Yesterday 40 domestic and 26 international flights were delayed. Significantly, both private airport operator and airlines had claimed full preparedness to carry out flight operations on their parts ahead of the fog season.
Take-offs at Delhi airport require a minimum RVR (runway visual range) of 125 metres and landings can take place with a minimum RVR of 50 metres.