Youth Olympics: Javelin thrower Rana earns quota spot
Bangkok [Thailand], July 5: Indian javelin thrower Kunwer Ajairaj Singh Rana bagged the gold medal to qualify for the Youth Olympic Games on the opening day of the Asian Area qualification leg of the event here at Thai Japan Bangkok Youth Center on Wednesday.
The 18-year-old javelin thrower threw the spear to a distance of 76.13 m to storm to victory. The throw was nearly four meters further than that managed by second-placed Japan's Kentaro Nakamura, who threw 72.04m.
Rana was not the favourite before the competition as his personal best until then was 68.94m which he had managed at the Junior Federation Cup in April this year. But, he surprised everyone with his performance.
Vikas Yadav, another Indian in the fray, claimed the third place of the podium. Yadav won a bronze medal with a throw of 68.65m.
Yadav, however, missed out on a Youth Olympic quota spot with only the top two athletes winning places for the Games.
Moreover, he fell short of his personal best of 75.02m.
Also earning quota places along with medals for India was middle distance runner Tai Bamhane.
With the top three athletes of the race earning qualification for the Games, the 15-year-old from Maharashtra claimed a silver medal in the women's 1500m race in a time of 4:25.66 seconds. She finished behind Yuki Kanemitsu of Japan who clocked 4:24.21 seconds.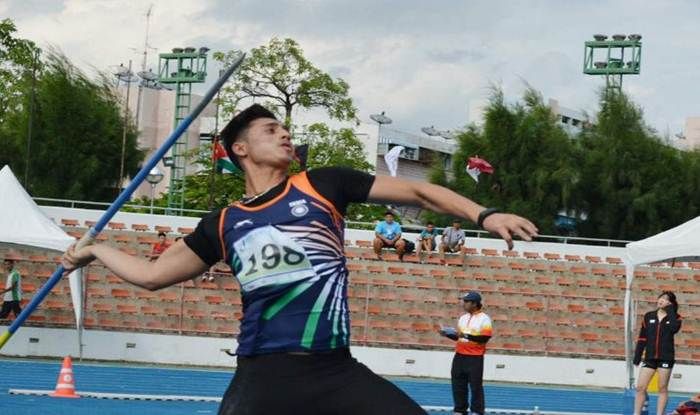 Guiping Zhang of China was a distant third with a time of 4:30.45 seconds. Bamhane's time was the fastest of her career, bettering the 4:36.61 seconds she had clocked at the Junior Federation Cup in April this year.
Narrowly missing out on a quota place for Argentina was hurdler Aparna Roy who fell short despite managing to set a new personal best with a time of 13.98 seconds to claim a bronze medal in the 100m hurdles.
Roy's previous best had been a time of 14.01 seconds that she had set at the Junior Athletics Championships in Vijayawada in November last year.
With only top two athletes winning quota spots for the Youth Olympics, Roy will have to be satisfied with the bronze medal she won behind Ting Wei Lin of Chinese Taipei and Yiru Dai of China who clocked 13.63 seconds and 13. 76, respectively.
Also due for disappointment was sprinter Nisar Khan. The 17-year-old from New Delhi had a personal best of 10.76 seconds, which he had set at the Khelo India Games in February this year but was well short of that in Bangkok.
Although the eight best athletes at the ongoing event would qualify for the main event in Buenos Aires, Nisar only managed a time of 11.20 seconds to finish 12th in the competition.
The Youth Olympics are slated to be held from October 6 to October 18 in Buenos Aires, Argentina.