Train traffic affected for three hours on Salem-Chennai section after overhead cable gets damaged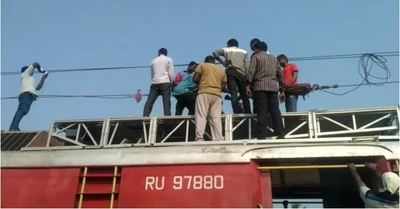 VELLORE: Train traffic was disturbed on the Salem-Chennai section for over three hours in the early hours of Friday after an overhead cable was damaged, between Tirupattur and Kagankarai railway stations.
Eight trains, including six heading towards Chennai, were standing at various places for two to three hours from 4.30am. The incident occurred when the Madurai-Chennai Central Duranto Express was nearing Tirupattur railway station. The overhead cable of the upline (towards Chennai) got cut and fell on the Duranto Express, bringing the train to a halt.
A team from Salem division reached the spot and rectified the cable, the traffic was restored around 9.20am, said the officials.
Thiruvananthapuram Central-Chennai Central Express, Mangalore Central-Chennai Central Superfast, Ernakulam Junction-Chennai Central Special Express, Thiruvanthapuram-Shalimar Express Train and Duranto Express and two trains heading towards Coimbatore were delayed from 45 minutes to three hours.
The down line was used for two-way traffic until the up line was restored, an official said, adding, "On an average, eight trains were delayed by 2 hours."