12 Awesome Rangoli Designs to try out
Rangoli is a form of art in India, where patterns are made on the floor. From living rooms, outside the house to courtyards, rangoli is a form of decoration done during festivals. It is made with coloured rice, dry flour, coloured sand and even flower petals. You can also purchase rangoli colours; there is a variety of rangoli shades available in the market these days. Rangoli is usually made on Diwali, Onam, Pongal and many other Indian festivals!
This tradition is very popular during Diwali celebrations. From offices to residential areas, this decoration is made to bring good luck. The designs can be simple in geometric shapes, floral designs and even impression of Gods. From using chemical colours to rice powder, people also deck up rangolis with diyas and flowers.
This tradition of decorating homes also represents Hindu culture to please Goddess Lakshmi. It is believed she showers her worshippers with good luck and fortune. There are a lot of ways you can decorate your home with rangoli this Diwali. From flowers, pom-poms to floating diyas, rangoli designs can be made with rice, flowers and burst of colours.
Here are 12 Beautiful Rangoli designs to try out
1. Flower and petals rangoli
If you're looking for an easy design, then this flower rangoli is perfect for you. For this design, you would need rangoli stickers, rose petals, diyas and marigold flowers in yellow and orange colours. Put a diya in the centre and decorate with rose petals and marigold flower in a circle. Next, decorate other stickers with the petals and put the diyas on the corners of the design.
2.Pom pom rangoli
If you have a limited space to make a rangoli at home, you can try this one. For this rangoli, you would need diyas and colourful pompoms. Put a diya at the centre and make two circles of pom poms like shown. You can use double-sided tape to keep the pom-pom in place. You make more than one and get creative with this simple design.
3. Ganesha rangoli
One of the most popular designs of rangoli is the Ganesha design. You can outline the design with a pencil or a sketch pen first and then create a border with white powder. Get creative with colours and try a mix of bright colours.
4. Peacock rangoli
Another popular design is the peacock rangoli. This design is all about bold and bright colours. You can make a sketch first and create borders with colours and fill in the colours.
5. Peacock feather rangoli
If trying a peacock rangoli is tough for you, you can try the peacock feather rangoli. You can use green and blue colours for this design and make the designs by using your fingers.
6. Circular patterns
One of the most common traditional rangoli is the circular pattern. This design can be made in a lot of ways. From floral patterns inside to more designs, you can experiment a lot of ways with this design.
7. Floating flower rangoli
Another way to decorate your house with rangoli and diyas is this one. You can keep a bowl of water with flowers and floating diyas. Next, you can make a rangoli design in a semi-circle around the bowl of floating diyas.
8. Corner rangoli design
If you have not much space to make a rangoli, then this triangular shape rangoli on the corners of your house is perfect. Try the semi-circle designs in the corner and you can also decorate the ends with diyas and flowers.
9. Shubh Labh rangoli design
Decorate your house with good luck signs this Diwali. From Om, Swastika to Lakshmi Padukas, there are a lot of signs you can try. You can make colourful circles and make the signs with white powder. 
10. Chowk design
This design is the oldest form of rangoli in India. It is made with wheat flour, vermilion or turmeric. It is believed to be very auspicious as it pleases God and Goddess.
11. Floating rangoli design
This design is made in water with floating diyas, flowers, petals and candles. A bowl of water is kept, which is decorated with watercolours, flower petals and floating diyas.
12. Alpana rangoli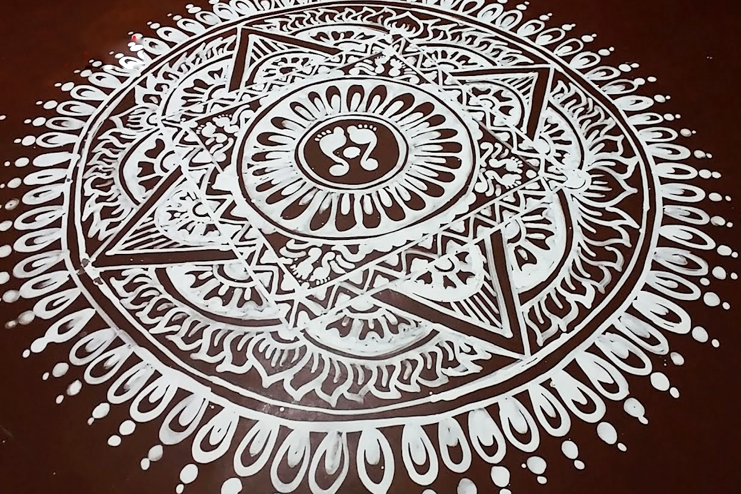 Alpana is a rangoli made with grinned paste of rice. This auspicious rangoli is made to welcome Goddess Laxmi. The rangoli is made with fingers and is one of the popular designs made by women during many Indian festivals.