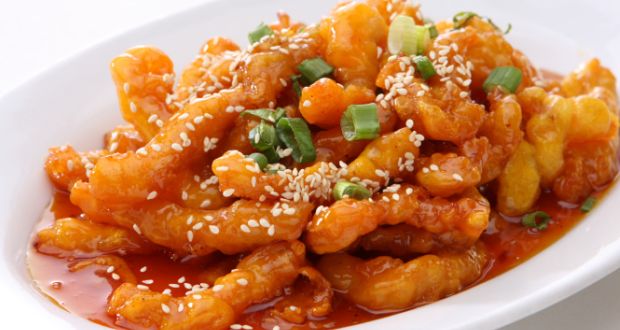 Chilli potato is a very tasty snack or a starter. It is basically made by frying baby potatoes and then tossing them in sauces .
INGREDIENTS:
15-20 baby potatoes

Salt as per taste

1 teaspoon red chili powder

3 teaspoon corn flour

oil for frying

1/4 cup Finely chopped cabbage

1/2 cup Finely chopped spring onions

1/4 cup Finely chopped or grated carrot

1/4 cup finely chopped red Capsicum

1/4 cup Finely chopped green Capsicum

1/4 cup Finely chopped yellow Capsicum

1 teaspoon Green Chilli sauce

1 teaspoon Schezwan chutney

1 teaspoon Red chilli sauce

1 teaspoon Vinegar

METHOD:

Boil baby potatoes in a cooker till 2 whistles. Remove the skin and prick holes in it using a fork.

Add salt ,red chilli powder and corn flour. Mix well

Fry the potates till golden brown

In a pan heat 2 teaspoon of oil

Add gigerg and garlic paste

Add onions, cabbage, capsicum and carrots

Add the red chilli sauce, green chilli sauce, schezwan chutney, vinegar and cornflour paste

Let it cook for 2 minutes

Add the fried baby potatoes to this mixture

Garnish with green onion leaves.