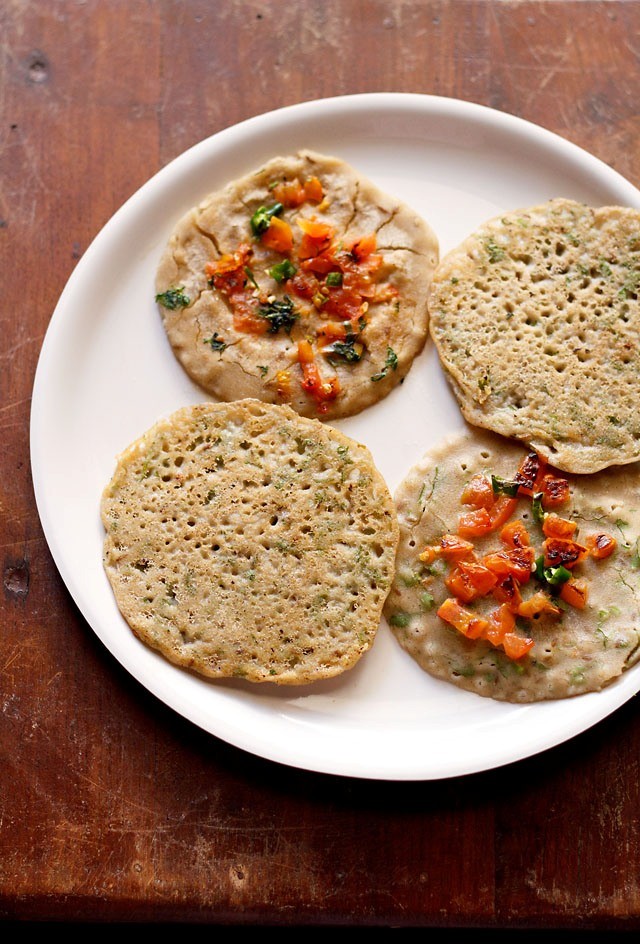 Ingredients of Vrat Wale Uttapam:
Method to make Uttapam:
Step 1:To prepare this delicious uttapam recipe, take a bowl and add powdered barnyard millet in it along with cumin powder and sendha namak. Sift well and add water in it to prepare the uttapam batter. Make sure that the batter has slight thick consistency and no lumps are remaining.

Step 2:Now, put a non-stick pan over medium flame and grease it with a little ghee. When the ghee is melted, pour a small amount of batter using the ladle and spread it using circular motions. Sprinkle chopped tomatoes, green chillies and coriander leaves over the prepared uttapam. Lower the flame and let the uttapam cook.

Step 3:Then, add a little ghee to the sides and over the uttapam. You can also cover the pan with a glass lid to cook the uttapam from inside. After a few minutes, flip it and cook until the tomatoes turn brown. This will take 2-3 minutes to cook from both the sides.

Step 4:Once the uttapam is cooked, serve hot with coconut or tomato chutney as you like.